I love a good party. And half the fun in any party is planning it. Once you've planned a wedding for 200 guests, a brunch for 12 feels like a walk in the park.  I crafted this menu a couple weeks in advance and chose some things I could assemble ahead of time so I wasn't rushing around the morning of.  This particular party was honoring our moms so I wanted it to be perfect.  The eats  . . .
Bacon Wrapped Dates
Ingredients:
25 whole, pitted dates

12 slices pre-cooked bacon 

Pure maple syrup
Directions: Cut bacon strips in half, wrap around dates, and secure with a toothpick.  Drizzle with maple syrup and bake on a foiled tray for 10 minutes at 400 degrees.  Makes 25.
Lox Bites
Ingredients:
4 oz smoked salmon (lox) sliced into small pieces

1 package cream cheese

1 bunch fresh dill

2 medium sized cucumbers
Directions: Slice your cucumbers into 1/2″ thick rounds.  Mix cream cheese and fresh chopped dill together.  Smear each round with a good bit of cream cheese. Layer lox on top of cream cheese. Garnish with additional dill if desired. Makes about 20.
Mini Yogurt Parfaits with Blueberry Skewers
Ingredients:
1 large container yogurt, any flavor you want

1 bag of Teddy Grahams, crushed

1 container of Cool Whip

1 pint of fresh blueberries
Directions: Fill your cups 1/3 full of crushed Teddy Grahams, yogurt, and then cool whip. Garnish with blueberry skewers.  Makes about 12.
Breakfast Cups 
Grrr, my pictures of these did NOT turn out, but in the name of keeping it real, we're going to show 'em off.  They were a huge hit and actually really delicious despite how hideous they looked.  My only suggestions would be to use a larger muffin pan and to scramble the eggs so they didn't blow into big bubbles and pop in the oven (hilarious scene of my mom-mom and I trying to pop these mid-bake ensued).
Inspiration: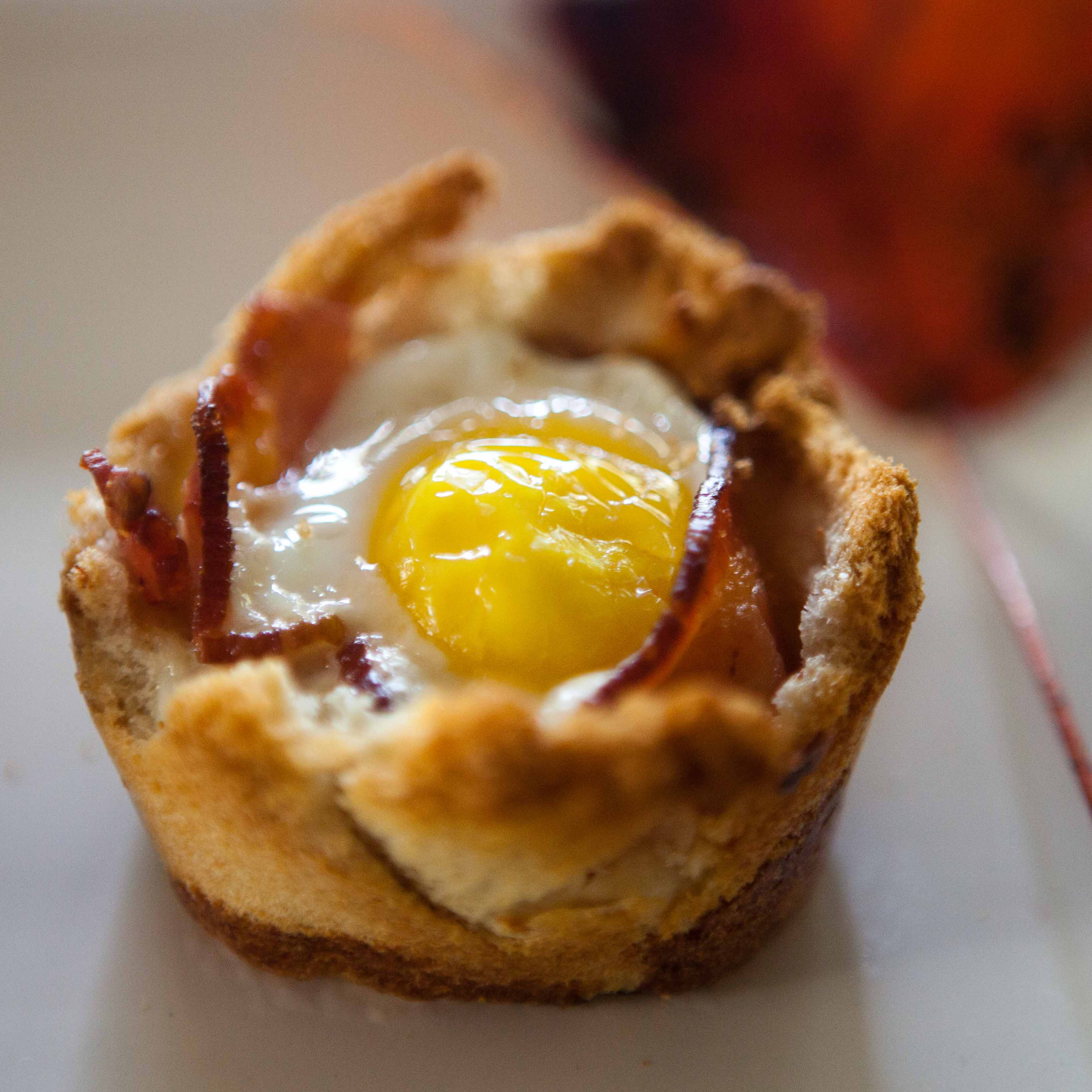 Heather's Reality:
Hahaha welp, you can't win them all! Thanks to my family for still eating these and thanks to my husband for his 2+ hours of help prepping, cleaning up, and prying these puppies out of the pan.
Ingredients:
12 english muffins

12 fresh eggs

12 oz shredded cheddar

Cooked, crumbled breakfast sausage
1/4 cup diced, sauteed white onion
Directions: In a non-stick muffin pan, lay down the english muffin, cheese, sausage and onion, and then crack an egg on top.  Sprinkle with salt and pepper. Cook for about 8 minutes at 400 degrees or until egg is set. Makes 12.
A Summer Salad 
(based off of this recipe)
Ingredients:
1 box of pine nut couscous

1 pint of cherry tomatoes, quartered
1/2 cup of red onion, diced
1 container of feta
healthy squirt of lemon juice
Salt, pepper, and oregano to taste
Directions: Cook couscous as directed and let cool. Toss with veggies, cheese, and juice. Season to taste.
Chicken Salad Tea Sandwiches
Ingredients:
12 slices whole grain bread, quartered into triangles

4-5 cups shredded chicken (rotisserie)
1 cup mayonnaise
2 stalks celery, diced
1 tbsp minced onion
1.5 tbsp vinegar
1 teaspoon onion powder
Salt and pepper to taste
Directions: Toss chicken with veggies. Mix in mayo and vinegar. Season to taste.  Serve between two triangles of bread with a toothpick to secure.
—–
We munched our way through the afternoon, sitting outside and drinking mimosas and it made me feel so grateful to have all these beautiful and smart women in my life.
Dear Mama, Karen, Nana, Mom-Mom, Linda, and Sarah,
Not many people are lucky enough in this life to have so many women to look up to. You have all taught me so much about life: standing on your own two feet and being strong enough to do it alone, how to love, how to forgive, how to appreciate your family, and most importantly, how to hold yourself as a secure, confident, and gracious woman.  I am so proud to call you all my family and you deserve to have Mother's Day every day.  I love you!